Impressions from a few days in Berlin, January 2010

By Kurt Starlit

Wir sind wieder zu Hause (we are home again), and after four exciting days in Berlin, it is a relief to say that the berliners don't give a damn about german grammar, as long as you do an honest attempt to speak their language.

This we did and in return, we experienced what a pleasure it is to communicate with people in their own language and mental wavelength.

A few words on travelling Copenhagen - Berlin:

We chose to travel by Greyhound buses - not because it was the cheapest way, rather because we had the expectation, that the comfort on board would be correspondingly better.


This was by no means the case. On the contrary, it was an old bus that drove us from Copenhagen to the ferry, where we had to carry the luggage manually from the bus on board the ferry (the bus now returns with passengers from Berlin to Copenhagen).


The ferry crossing was all right. Nice toilet facilities, shops and an excellent cafeteria.


In Rostock everything is repeated. The luggage must be dragged ashore and aboard yet another old bus, which incidentally is delayed. Air condition did not work in any of the two buses, you couldn't buy any beverages, and the access to a toilet was non-existing. Moreover, we are not allowed to eat or drink any of our own goodies (this we did anyway, but of course: discreetly).


Because of this, I won't advise anybody to go by Greyhound to Berlin - it is simply too primitive.

But otherwise, the visit to Berlin was very enjoyable and in absolute order. We stayed at the Hotel Melia in Friedrichstrasse, right at the metro station with the same name, and with a direct view over the river Spree.

We had a nice double room with breakfast buffet for about 600 DKK per. day (60 pounds or so), so it wouldn't be fair to complain about that. By the way, we found our hotel on the Internet - as recommended by a friend.

Checkpoint Charlie is located in our own Friedrichstrasse, so we had to take a look. It is exciting and interesting to learn about Berlin's history up to the present day, but also dramatic and touching. I won't go into detail, but most of us probably remember that once upon a time, Berlin were in the middle of a war. Then came the russians to put their mark on the city. The history of the wall, parting Berlin in two halves, is is documented by pictures and text, so if you have time and energy, it's easy to spend a here.

The 300 meter Fernsehturm (TV tower) is worth visiting. At the top is a restaurant, where you slowly turn 360 degrees, seeing the whole city passing by, while you enjoy your goulash soup and Berliner Pils.

The image of the tower in snow was taken in dimness and rather fairy-tale-like.

Below the tower, we found a snow park, which, at closer inspection, turned out to be a solidarity statement for the benefit of our beloved snowman and the environment we all have to take care of.

A ride in tram line M4 to the very end at Falkenberg we also tried.

And talking about public transportation, it seems only fair to stress that the Berlin U-Bahn (underground) and S-Bahn (light rail) is quite formidable - especially if you can find out the system. In the two days we had at our disposal, we managed to go wrong places several times. With a little more time in the city we would undoubtedly have understood the system far better. But fortunately there are so many helpful Berliners who'll gladly show you the way.
Danke Schön!

We had planned to go for a jazz club, but went short of (mental) fuel, so instead we stayed home at the hotel, watching TV, making instant coffee and went to bed early. A quirky fact is that most (if not all) jazz clubs are located in East Berlin ... Warum?

Meeting lots of friendly Berliners (e.g. waiters, maids, street sweepers, taxi drivers and a female owning a beauty saloon) gave the feeling of something personal, which made the trip worthwhile.

They all gave us their candid views on the city, its political regime, the weather, the traffic and the prices in general. A Turkish taxi driver lamented about the unfairness of working 25 years in Berlin as a good citizen, paying his taxes and everything, and still not being able to get a German citizenship or pension.

Finally came the big day we had eagerly awaited: 6 Tage Rennen - six day bicycle track racing. This saturday was racing-day number three.

The Berliners know how to have fun!

With 12.000 spectators and 112 side activities (not least the culinary ones), it was like one big exhibition or mass - a mass that we won't forget right away.

We didn't have so much fun since the happy days of the 6-days fever of Copenhagen Forum in the 1950s.

PHOTO:

Brandenburger Tor


The monument in Tautenzienstraβe

Tram line M4, heading for end station Falkenberg


Fernsehturm at dusk (the lines in the picture are snowflakes).


Berlin Schuco bear along with my wife Hennie.

++++++++++++++++++++++++++++++++++++++++++++++++

Berlin revisited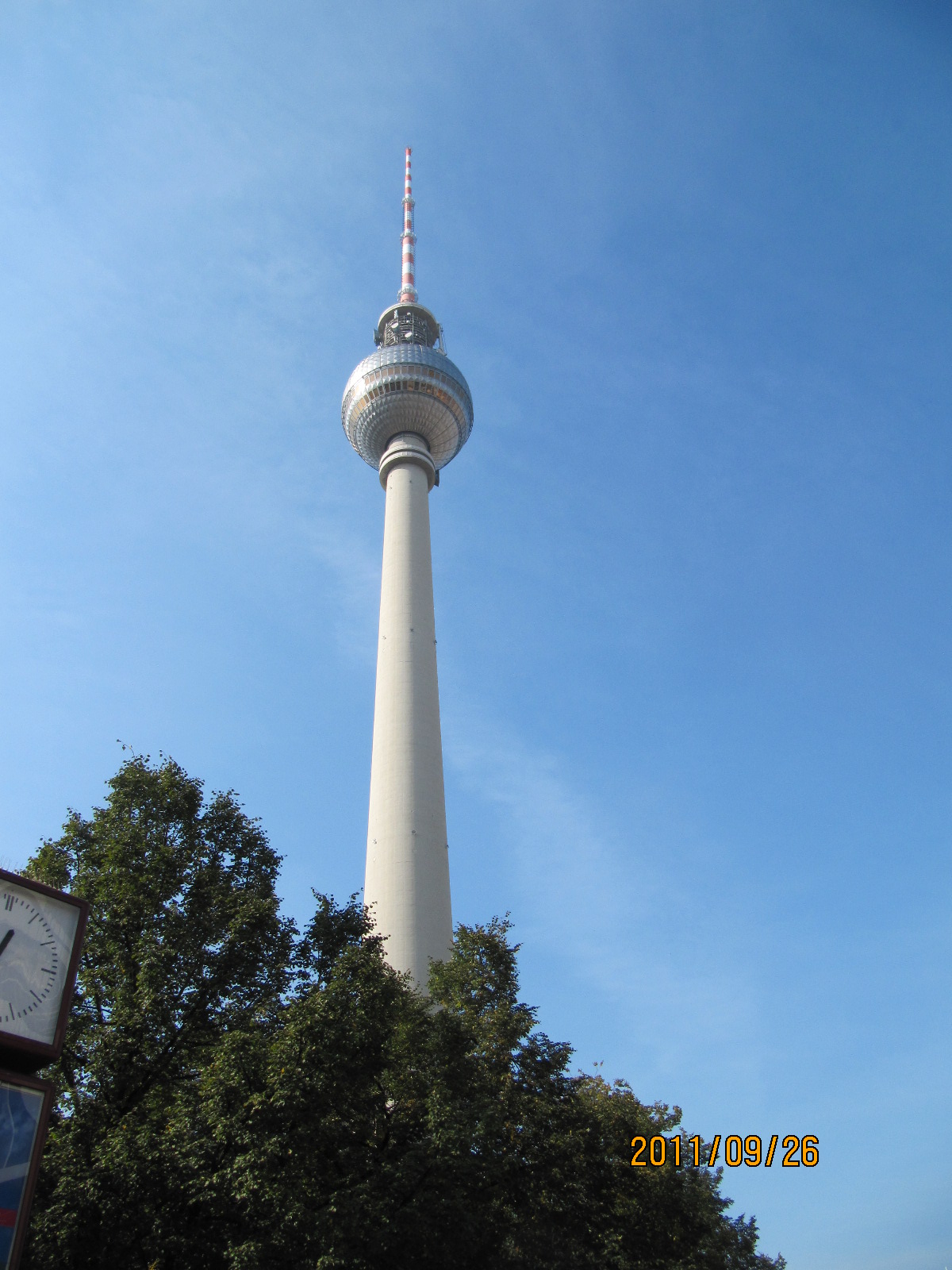 large pic.

Berlin can easily stand a re-visit, so the whole family went down there in September 2011, to watch the big marathon, held once a year.

The trip was carried out by EasyJet, being the fastest and cheapest (Airbus A 319 or 320). We got off at the Schönefeld Airport, which is about 15 km (ten miles) from central Berlin.


Schönefeld is offering food and drink, served from a retired S-bahn.
Photo: CykelKurt

From here a train goes to Berlin Haubtbahnhof in the center of Berlin. We went for Lynarstraβe, located close to the Wedding (pronounced "veeding") S-bahn and U-bahn station. We had rented a cheap two-room apartment which met our needs.

Tageskarte One day ticket for the Berlin S- and U-track

Attractions

What should you see in Berlin?

Certainly a question with many answers, but starting with a ride on a tourist bus driving around the city seems like a good idea. In this way you get a quick overview of the city.

A trip up into the high TV tower is another option. Also, you should grant yourself the pleasure of eating in the restaurant at the top of the tower. The tower is rotating 360 degrees at a slow pace, in this way making it possible to enjoy the sight of a beautiful city with green oases, while eating and rotating.

The Zoo

Berlin Zoo
is a third option in Berlin, especially if you have children. Here you can easily spend a whole day.

The garden in many ways seems a bit altmodisch (old fashioned), just like our own Copenhagen Zoo back in the 1950s. On the other hand, you feel long away from a noisy city, although it is located near the shopping street of Kurfürstendamm.

On a personal level, I had expected the scientific and pedagogical level of the garden to be somewhat higher (I'll come back to this later).

Ticket for Berlin Zoo

I had hoped to find the Common Black Raven (Corvus corax) in the garden, but didn't find it. Maybe it's because Berlin Zoo has got the same policy as Copenhagen Zoo on birds and creatures, namely, that Germany's own birds and animals belong in the wild. If city people want to see these birds & animals, they'll have to walk out in German/Danish nature!

On the other hand I found a few African crows in a department for birds of prey: Schildrabe (Pied Crow) and Geierrabe (White-necked Raven). How well or how bad these birds are treated is a matter of discussion. One of the birds had got one leg wrapped into a thin metal thread, obviously causing irritation and pain, as the bird were making sounds while trying to get free.

Several of the garden staff were passing by, obviously without being challenged by the bird's behaviour.

Schildrabe (lat. Corvus albus), eng. Pied Crow, da. Hvidbrystet Ravn
is an African crow, which is widespread in Central and South Africa. The color pattern of the bird may resembles a Magpie, although in conformation and size it rather looks like a Hooded Crow (Corvus cornix).


Schildrabe (Pied Crow) sign

Geierrabe (lat. Corvus albicollis), eng. White-necked Raven, da. Hvidhalset Ravn
This bird belongs in eastern and southern Africa. It lives in much the same way as a domestic Raven (Corvus corax) and from the same food items, e.g. insects, mice, rats and fruit. Besides, it takes what it finds in man-made dumps.

Geierrabe (White-necked Raven) sign